School Uniform
School Uniform
Uniformd – Preloved Uniform for sale
Children are expected to wear school uniform at all times and it is sold at the National Schoolwear Shop in Hanley. The jumpers have the school logo embroidered onto the garments.
Our uniform at St. Peter's is:
– Tie (Required)
– Blue jumper/ Cardigan with logo (Required)
– White collared shirt (Required)
– Grey trousers or shorts, skirt or pinafore. (Required)
– Black Shoes (Required)
– White/Black Socks
The pictures below show our uniform.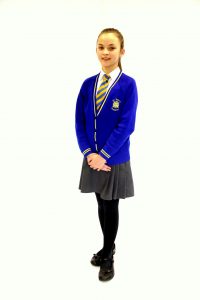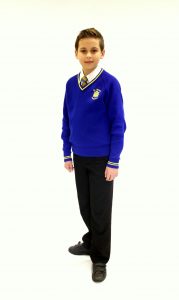 In summer girls are able to wear blue summer dresses. (Optional)
The National Schoolwear Shop also sells the school's PE kit.
Black shorts/joggers (Required)
Red/blue/yellow/green t-shirt with logo (the colour of your child's t-shirt depends on their house team, please ask your child's class teacher if you are unsure of the colour they need. Required)
Black pumps/trainers (Required)
P.E Hoodies are optional and are available from Supersports, High Street, Tunstall.
You may also order online at https://www.supersport.co.uk/schoolwear.html
Please ensure all PE kit comes to school in a PE bag. Carrier bags make it hard to identify who the PE kit belongs to in class.
Please ensure that all uniform is named
In the interest of Health & Safety, jewellery with the exception of watches must not be worn and this includes earrings which are not permitted even if covered with a plaster. If your child has their ears pierced please ensure that this is at a time when they are not in school.
No sculptured hair styles please.
No coloured nail varnish or false nails allowed.