Eco Council
We are the Eco Warriors!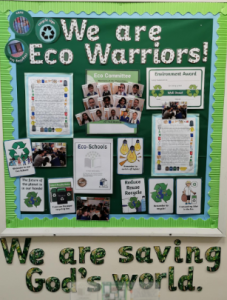 At St. Peter's Catholic Academy we feel it is our mission to live as Jesus wants us and to look after, care for and make a difference in God's world. We live out the faith by sharing our knowledge of caring for God's creation.
We are very excited that St. Peter's has been chosen as the first school to receive the Eco Library from Stoke Reads. What a fantastic opportunity and we are so proud of our children. There are a variety of fiction and non-fiction books that will help in our mission to be Stewards of God's Creation.
Climate change is destroying our planet, but we believe we can all make a difference. We share this vision through our mural in our school grounds. We held a school Eco competition, thinking about pollution and climate change, and then produced our own art work. The winning pieces were collaborated together and made a stunning, thought evoking design –
What is an Eco friendly School?
Eco–schools is an international award programme that guides schools through a process to help them address a variety of environmental issues, ranging from litter and waste to healthy living and biodiversity
Eco Committee
Who can be a member of the School's Council/ Eco Committee?
We have an active Eco Council with 2 pupils representing their class from Year 1 to Year 6. Each year we hold a special election day when candidates are voted for by their classmates.
The Eco–Committee is responsible for preparing an Action Plan for the whole school to engage in. The children organise regular meetings to discuss environmental action for the school.
What we have done so far.
collected crisp packets to recycle
recycled tyres from the local garage to make an obstacle course and use as planters for wild flowers
recycling bins in staffroom, classrooms and hall.
recycled plastic cups in dining hall. 5 days a week x 30 children in each class x 8 classes x 34 weeks in school = 40,800 plastic cups per school year!!!
Each class take part in the Walk to School campaign
We have achieved Silver award!
To achieve this our committee had to
We are now going for Silver!
Silver Award Self-Assessment
Environmental Issues have been covered in at least three areas of the curriculum. These do not have to be from the same topic areas as those on your Action Plan.
The work is evident in either your schemes of work, pupil work, lessons plans, resources or on displays around your school.
Three topics for first Green Flag five for Green Flag renewals
Your school has a prominent and designated Eco-Board detailing all Eco-Schools activities.
Your Eco-Board includes the following:
Names and if appropriate, photos of your Eco-Committee members
Minutes from your Eco-Committee meetings
A copy of your Environmental Review
A copy of your Action Plan
Eco-Schools Bronze Award certificate
Opportunity for others to post suggestions.
Your Eco-Board is regularly updated.
Your Eco-Committee uses a variety of mediums to help communicate their actions (newsletters, school website, the school's social media accounts etc.).
The wider community is involved in activities going on in and around the school (parents, carers, local businesses, environmental organisations, local churches and residential groups).
Eco events – we are stewards of God's creation –
Year 6 have taken part in a local litter pick – what great role models they were.
Our after school Eco Club planted wild flowers in the school grounds to attracts bees and insects. They produced Eco checklists for around the school. They designed their own recycling signs –
Each week we have a presentation for the most Eco friendly class, this is done in the Celebration assembly and the special certificate is displayed on the classroom doors. The Eco council decide which class should win, have they switched the lights off? Made sure all the lids are on pens and glue sticks? All paper recycled?

We kept in touch via Twitter over the lockdown period
Mental Health Awareness Week – Connecting with nature
World Earth Day – April 22nd
Our planet is in peril, we need to keep and eye on our earth
The children in school learned that there is one planet earth, there is no plan B.

The Great Science Share 15th June 2021
come soon…